SMALL HOUSES

LARGER HOUSES

MULTI FAMILY

NON RESIDENTIAL

ALLEY FRIENDS ARCHITECTS

ARCHIVE

IN PROGRESS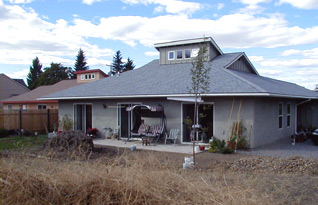 The project was conceived and financed by the Spokane County Conservation District. Architects Bruce Millard and Thomas Angell teamed with builder Scott Weston and other Northwest EcoBuilding Guild members to complete the project. The crew built two houses on adjacent lots. Each floor plan includes a 1300 sq ft interior, three bedrooms, two baths, an open living room, dining room, and kitchen, and an attached two-car garage with workshop. A hip roof helps the house blend into the existing 1960s neighborhood, while allowing the roof load to bear equally on the compressed load-bearing straw-bale walls.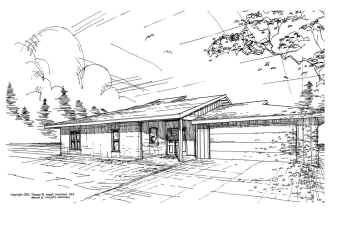 The homes are designed to include the same features at prices competitive with other homes in the Spokane Valley neighborhood where they were constructed. They include radiant in-floor heat, whole house ventilation systems, and durable materials. South-facing sliding glass doors bring light and warmth into the great room and master bedroom. Eighteen-inch straw-bale walls are finished in cement stucco.
The sketch shows the attached garage and entry porch on the mid-street site. The designs allow planners to move garage and entry to adjust for lot size and type.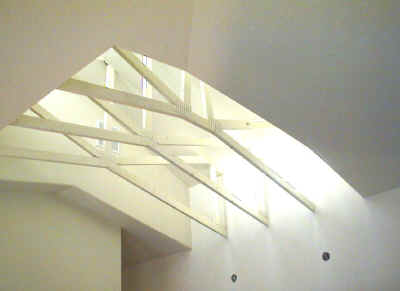 A southern reversed dormer brings light deep into the structure, illuminating the kitchen and northern bedrooms. House trusses run through the dormers and minimize roof structure costs. Combined with the thermal mass of an in-floor heated slab, as well as the interior finish of the straw-bale walls, the dormer windows vent summer's heat out of the house and passively cool the building without an air-conditioning system.
The straw-bale walls were stacked, compressed, and stuccoed on both sides prior to setting roof trusses.
For more information on the SCCD Straw Bale Housing Project, visit these links:
SCCD strawbale or
NWEBG projects.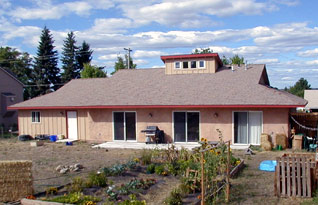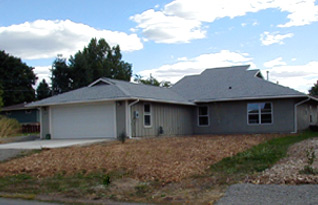 Owners completing low water, low maintenance natural landscaping and southern gardens.