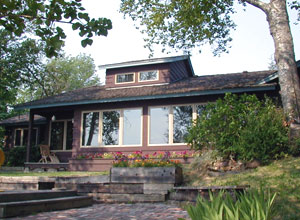 Large windows bring lake views into the expanded living room and master bedroom. A covered porch shelters lake viewers from Northern Idaho rainy days.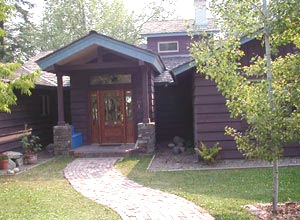 The existing main roof was raised to bring in light from the east, south, and west, while providing passive ventilation.
A recycled brick walk leads visitors from the parking area to a gable entry porch with stone base columns.
The existing garage became a family room, which connects with a new artist studio and a storage building. A western stone sculpture porch was built with pre-engineered trusses and clear glazing.
The existing house was built with standard eight-foot ceilings and few southern windows. We designed a solution that raised the roof to expand vertical space and bring in the warmth and sunlight. Eastern and western windows ventilate summer heat. Low-energy wall lights accent the wood ceiling.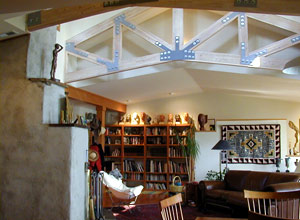 Heavy timber beams support the expanded roof. A rough stucco fireplace, stepped partitions, and wooden wall shelves display the artist's creations.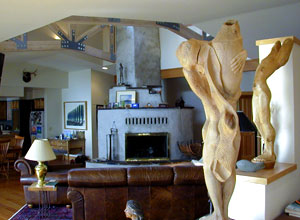 Interior finishes include non-VOC (volatile organic compound) paints, light pine trim, and local stone hearth and mantle. Floor finishes include recycled wood in public areas, cork in bedrooms, natural linoleum tiles in bathrooms, and local stone in foyer and entry porch. New wooden doors adorn the refinished kitchen cabinets.