PREVIOUS


NEXT
The NYE RESIDENCE is a good demonstration of the owners' desire to build their own single-story house, with loft, using recycled and durable materials with sustainable methods. We designed a program for a well-insulated home that was spacious, but not large, with flexible open spaces and easily maintained finishes. Highly detailed owner-built cabinetry, tinted plaster, and a stained radiant concrete floor are highlights of this 1600 sq ft home near Sandpoint.
SMALL HOUSES

LARGER HOUSES

MULTI FAMILY

NON RESIDENTIAL

ALLEY FRIENDS ARCHITECTS

ARCHIVE

IN PROGRESS


Owners Kevin and Julie completed the Rasta recycled foam wall system with the help of their friends. Then a carpenter was hired to lead the truss raising. The house exterior is finished in stucco, with locally rough-milled timbers used for the entry porch. A simply shaped, high-slope corrugated-metal roof is used to reflect the early structures of the region.
The simple, rectangular floor plan includes a protected south-facing entry. Southern dormers bring warmth and light deep into an open great room, while venting the space in the summer. Bays extend east and west from the central kitchen and bath, giving shape to the rectangular home. Two bedrooms on one end are grouped with two baths and loft above, and the other side is shared by a study and the great room, where lake and mountain views appear to the north.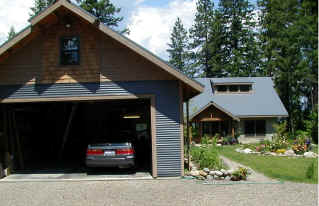 The garage exterior blends metal siding and wood shingles with an eastern plant trellis along the walk. Moving the garage away from the house separates quiet human spaces from the noise of cars and workshop. Situated forward on this narrow site, the garage and workshop complement a private southern garden and a pleasant walk to the house.