PREVIOUS


NEXT
CHAPELPOINT 300 We designed this four-unit condominium building for a steep site at Schweitzer Mountain Resort in Sandpoint, Idaho. The tight infill lot required careful design and planning, to meet the developer's car access, parking, and ski-trail access requirements, as well as the resort's architectural committee approval. All units were sold prior to construction.
SMALL HOUSES

LARGER HOUSES

MULTI FAMILY

NON RESIDENTIAL

ALLEY FRIENDS ARCHITECTS

ARCHIVE

IN PROGRESS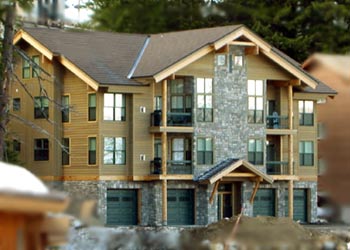 A multi-gabled roof structure provides room for lofts and two-story living spaces in the upper units, while shedding rain and snow away from pedestrian access. A protected main entry leads between indoor parking garages. Skiers have trail access from the rear, and a spa that overlooks the ski area from a upper level porch. At the front, elevation glazing and covered terraces provide views of the valley.

A gravel-covered roof steel shingle, plus exterior timbers, stone, and cedar siding, blend with the mountain environment.

Natural light and Northern Idaho views fill the open great room of this condominium. A stone fireplace and pine detailing correspond with the mountain ski resort image throughout the interior.

The building includes two 1425 sq ft three-bedroom units, and two 1888 sq ft four-bedroom units.