SMALL HOUSES

LARGER HOUSES

MULTI FAMILY

NON RESIDENTIAL

ALLEY FRIENDS ARCHITECTS

ARCHIVE

IN PROGRESS


Click below for more information


The final design accomplishes several things: it spreads southern light to all areas, creates high summer ventilation of public spaces, incorporates outdoor living spaces, and includes an open plan that has privacy for adults and children alike.




The main entry porch steps along a stone pond that defines the eastern patio. Native stone is used in the design of the pond, as well as in roof supports, walls, benches, retaining walls, and landscape elements.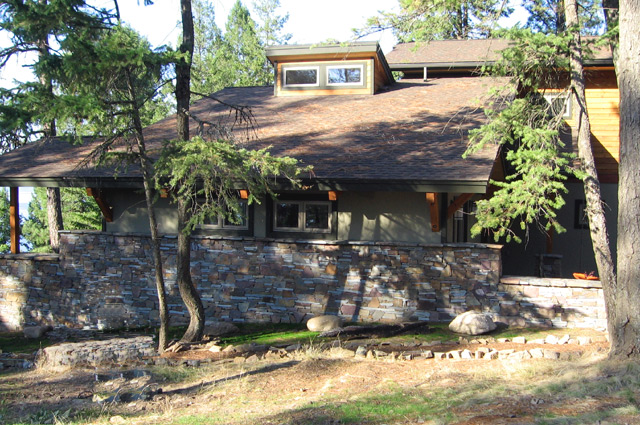 An elongated rock wall contains the south end of the house as well as the adjacent patio and porch. It protects these spaces from the street while blending the house with the site.
Inside, the kitchen and living spaces are divided from the foyer and dining area with a seven-foot high wall. Ventilation, light, and open space extend to all of these areas through an exposed, naturally finished timber-framework above the wall separation.

Interior finishes include wood and tile floors, tinted plaster walls, and wood ceilings.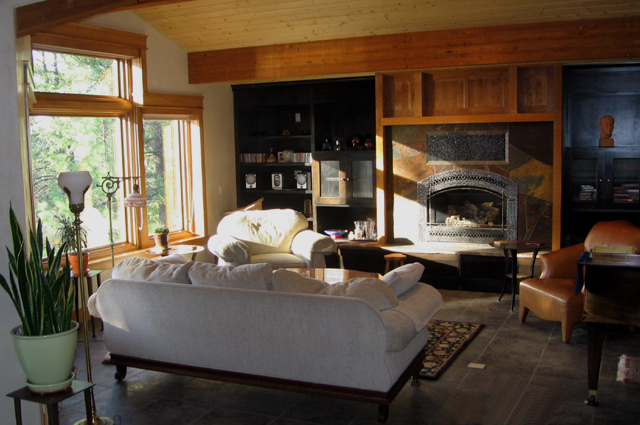 The great room ceiling slopes toward a fireplace and entertainment wall constructed of warm, natural materials that work with the windows and lake view to create an intimate living environment within a grand space.

Kitchen, dining, and great room porches become one indoor/outdoor living space that sits among western lake and mountain views.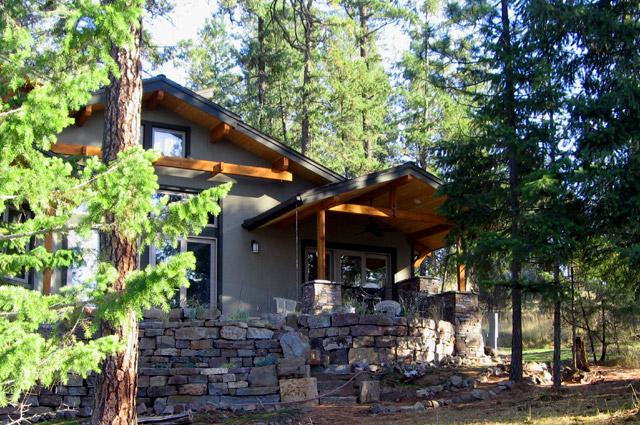 Wood timbers, cedar siding, stone, and natural material detailing blend with a durable cement stucco exterior to finish the recycled ICF (link) walls that form this residence.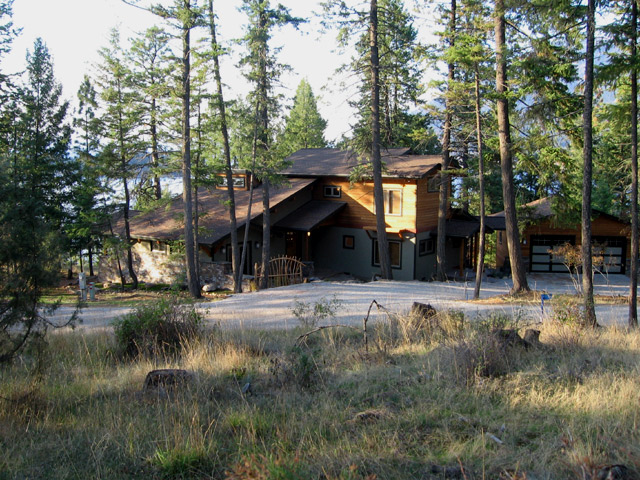 Low energy usage and tight house construction includes: recycled ICF-thermal mass walls, spray-in closed cell foam insulation, energy heel trusses with R-49 attic insulation, a natural summer ventilation design, low energy appliances, and compact fluorescent and low voltage lighting solutions.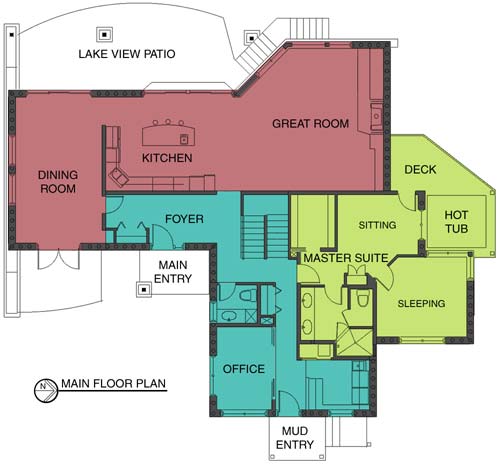 Floor Plan: The design utilizes the sloped site to enclose three levels of indoor space, including a playroom on the lower level, a master suite that is isolated from public spaces on the main level, and an upper level for the children's bedrooms and a study. The main level plan includes two entry points that work together to create circulation and zoning within the house that is both open and private.
A unique master suite layout provides separate sleeping, sitting, and dressing rooms to accommodate the varied waking schedules of the busy professional couple.