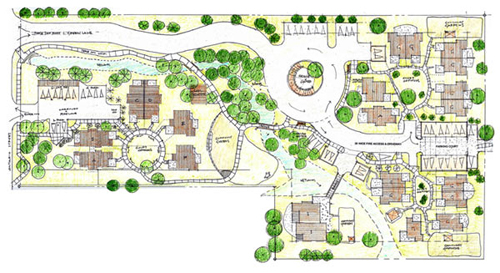 Housing Cluster Courts, common Gardens, Community Center and Recycling areas provide an eco-lifestyle community within this rural Idaho town. The Green Lane Community site is located within walking distance of schools, offices, retail, restaurants, and the city bike system that connects to the Lake Pend Oreille, downtown, and suburban shopping area.
Craftsman style 2 story housing with large entry porches and rear private decks are designed within compact spacious open plans. The 2 bedroom 2 bath plans have laundry rooms, open sitting lofts and large windows that bring in the winter sun and summer breezes. Sloping roofs, dormers, natural and durable materials and finishes blend with the North Idaho environment.
Single Family detached and duplex massing consisting of 2 to 8 houses are arranged around Cluster Courts in a manner to focus on the people orientated courts space. Their large windows, large entry porches and decks are arranged on the site for solar access and outdoor living and community interaction. By removing the car parking from the house, families interact while walking to and from their common carports to their common front yards-gardens and private entry porches.
| | | |
| --- | --- | --- |
| | A housing community is more than just buildings. It is people, wildlife, water and plant species. The premise of Green Lane is to build small units arranged in a way to create a sense of community by creating places of communication... of contact... thru-out all elements of the site, while also giving back space to the natural landscape. | |